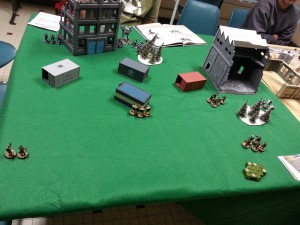 Encore du warfare pour la partie du vendredi. Toujours en 150 points mais contre l'Axe de synta cette fois ci. Partie rapide et on a moins cherché dans les règles même si on se pose régulièrement les mêmes questions.
Yet the Dust Warfare for the part of Friday. Still 150 points but against the Synta's axis this time. Quick game and less sought in the rules even if the same questions are asked regularly.
Voici les listes / Here are the lists:
Dust Warfare - Force Builder
Faction: Allies ( 150 / 150 )

---  Combat Platoon (150)
Upgrade: Air Drop (5)
Command Section: "The Boss" Ranger Command Squad (25)
1st Section: "Grim Reapers" Heavy Ranger Attack Squad (30)
2nd Section: "Legio Patria Nostra" French Foreign Legion Kill Squad (26)
3rd Section: "The Gunners" Combat Ranger Squad (17)
Support: MCW M3-D "Cobra" (35)
Support: "Crack Shots" Sniper Team (12)
Dust Warfare - Force Builder
Faction: Axis ( 146 / 150 )

---  Blutkreuz Platoon (146)
Upgrade: Potato Mashers (10)
Command Section: Sturmpioniere (25)
1st Section: Axis Zombies (19)
2nd Section: Heavy Flak Grenadiers (26)
3rd Section: Battle Grenadiers (17)
4th Section: Recon Grenadiers (17)
Support: LPW I-A "Heinrich" (20)
Support: Sniper Grenadier Team (12)
Je remporte la main pour le battle builder, au final ça donne:
Conditions: Aucune
Déploiement: Engagement rapproché
Objectifs: Positions clés
On a louché, on a rajouté un point quelque part…
I start putting points on Battle Builder.
Conditions: None.
Deployment: close engagement.
Objectives: Key positions
We squinted, we added a point somewhere …
Je choisis les deux containers au centre et Synta me dira à la fin de la partie avoir sélectionné les deux sur sa droite.
I choose the two containers at the centre and Synta will tell me at the end of the part you have selected the two on his right.
Le début de partie est un peu tendu, je perds mes snipers sur un mauvais placement mais mes autres unités s'en sorte pas trop mal.
The beginning of the game is a little tight, I lose my snipers on a bad location but my other units is so not too bad.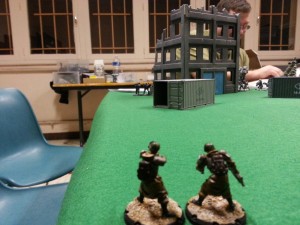 Avec le Cobra en réserve je me retrouve en sous effectifs, heureusement que Synta ne fait pas de gros jets et que je réussi mes sauvegardes. J'arrive à déclencher le tir de Long Tom durant la phase de commandement, les grims charcutent les battle grenadiers.
With the Cobra aside I find myself under-staffed, fortunately Synta is unlucky and I passed my saves. I can trigger the firing of Long Tom in the Command Phase, the grims kills the battle grenadiers.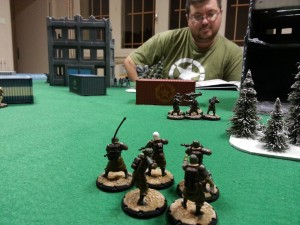 La charge des zombies sur la légion ne fait aucune blessure (2 touches annulées par 2 sauvegardes). Les zombies se feront anéantir par les gunners planqués derrière le container.
The charge of the zombies on the legion does no injury (2 hit cancelled by 2 saves). The zombies will be destroyed by the gunners stashed away behind the container.
Je sens que le vent tourne et je décide de faire rentrer mon cobra en renfort. Synta n'ayant que peu d'unité en état de lui tirer dessus je préfère le faire débarquer en centre de table plutôt qu'à l'arrière de ses lignes.
I feel that the tide is turning and I decide to return my cobra in reinforcement. Synta having little unit able to shoot it I prefer to land in table's center rather than on the back of its lines.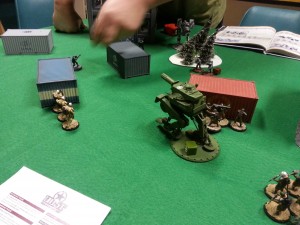 Le cobra fait son boulot en achevant les recon et en collant 2 blessures au Heinrich qui prend feu suite à un bon jet de dès sur la table des dommages. On aura pas l'occasion d'en appliquer les effets puisqu'il sera éliminé durant le phase de commandement sans avoir pu être activé.
The cobra did his job by completing the recon and sticking 2 damage to the Heinrich which caught fire after a good throw on the vehicule damage table. It will not be an opportunity to apply the effects because it will be eliminated during the command phase without being able to be activated.
Je remporte la partie suite à une table rase. Les phasers sont pas mal puisqu'ils enlèvent les jets d'armures (peut être une solution contre les nouveaux rang 4 SSU).
I won the part after a clean slate. Phasers are not bad because they remove the armor roll (may be a solution against the new SSU rank 4).
Comme d'habitude c'est inscrit dans la campagne islandaise avec le décompte des pertes suivants:
Axe: 150 points.
Alliés: 12 points.