J'ai un peu avancé la peinture de mes rang 2. Je viens juste de finir les recon boys, on voit encore les résidus de sable de flocage sur les photos de dos.
I have a little advanced painting of my rank 2 units. I just finished the recon boys, you can still see the flocking sand on photos of back.
Au niveau de la peinture, rien de plus que les autres escouades. Et comme je me suis aperçu la dernière fois que j'avais mélangé les figurines de The Boss et des Recon, voici une photo de l'escouade de commandement avec les bonnes figurines.
Speeking of painting, nothing more than other squads. And as I noticed the last time I had mixed The Boss and the Recon figures, here is a photo of the squad command with good minis.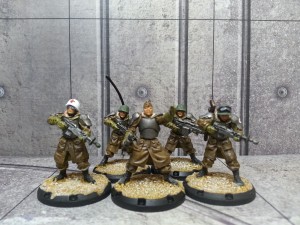 Mon stock de peinture Dust diminue correctement, il me reste à peindre:
My stock of Dust minis to paint decreases properly, it remains for me to paint:
1 BBQ squad
1 Hot Dog / Mickey
1 Cobra / Rattler
2 Bellowing Berties
2 Leatherneck et 2 Choppers
2 Wildfire
NCO Command Squad
5 Personnages (Chief, Victory, Priest, Bazooka * 2)
3 escouades de snipers.
Je ne pense pas finir d'ici la fin de l'année, surtout que je risque d'augmenter le stock d'ici noël.
I do not think finish by the end of the year, especially as I may increase the stock before Christmas.
15 Marius de plus au compteur.