Je viens de finir 3 autres sections de ma table modulable. Il y a 2 zones de cratères et 1 zone « aride ». Pour les cratère j'ai utilisé des mouchoirs trempés dans un mélange colle PVA + eau. C'est un peu mou au début mais une fois sec c'est très solide. La zone aride a été réalisée avec la pâte « Crakeled Earth » de ziterdes. Il faut passer une sous couche fournie avec la pâte et ensuite tartiner la pâte sur la table. Une couche épaisse donne des fissures larges, une couche mince donne de petites craquelures.
I just finished 3 other sections of my modular table. There are 2 areas of craters and 1 « arid ». For the crater I used handkerchiefs soaked in PVA glue + water mixture. It is a little soft at the beginning but once dry it is very solid. The arid zone was conducted with « Crakeled Earth » by ziterdes. Must pass an undercoat layer provided with the dough and then spread the dough on the table. A thick layer gives wide cracks, a thin layer give small cracks.
Le résultat en image / The result in image:
Les éléments de décors sont issus de la gamme « Battlefield in a box » de Gale Force Nine. Ils étaient déjà peint, je leur ai juste donné un léger brossage pour qu'ils s'accordent mieux à ma table.
The terrain elements are from the range « Battlefield in a box » of Gale Force Nine. They were already painted, I just gave them a light brush so that they better give my table.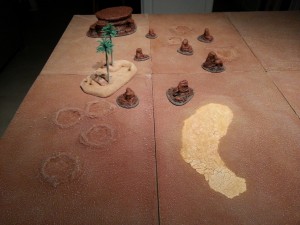 Les deux palmiers ne sont pas terminés, il reste le tronc à peindre. Voici ce que donne la table complète, je vais avoir droit à quelques séances décors pour la remplir. La table terminée a une taille de 120cm*180cm.
The two palms are not completed, it remains the trunk to paint. Here is what gives the full table, I'm good for a few sessions of decors making to fill it. The complete table has a size of 120 cm * 180 cm.
Et une photo avec l'ensemble de mes unités peintes jusqu'à présent (je n'en ai peint que la moitié…)
And a picture with all my units painted so far (I did in painted that half…).