La partie du vendredi ; encore du Dust mais en Warfare cette fois. Une petite partie en 150 parce qu'on est pas très à l'aise avec les règles et que ça nous évitera de finir à 2h du matin. D'ailleurs, à la relecture des règles et des capacités des unités je me suis rendu compte que nous avions fait quelques erreurs. L'adversaire du soir c'est le SSU de Riton, contre mes alliés donc.
Friday's battle; still Dust but in Warfare this time. A small part in 150 because we are not very comfortable with the rules and that it will prevent finish at 2 o'clock in the morning. Moreover, in the replay of the rules and the capacity of the units I realized that we had made a few mistakes. The opponent of the evening is the Riton's SSU, against my allies so.
Voici les listes / Here's the lists:
Dust Warfare - Force Builder
Faction: SSU ( 144 / 150 )

---  Political Platoon (144)
Upgrade: Political Importance (5)
Command Section: Nikolaï (20, Hero)
1st Section: "Chinese Volunteers" SSU Auxiliary Attack Squad (15)
2nd Section: "Fakyeli" SSU Close Combat Squad (21)
3rd Section: "Ohotniki" SSU Rifle Squad (20)
4th Section: "Fakyeli" SSU Close Combat Squad (21)
Commissar: "The Sumarokov" (5)
Commissar: "The Fonvizin" (9)
Support: "Jnetzi" SSU Sniper Team (14)
Support: "Jnetzi" SSU Sniper Team (14)
Riton a rajouté du Grizzled Veteran sur certaines de ses unités et un autre truc qui n'a pas servi.
Riton has added the Grizzled Veteran on some of its units and another ability that has not been used.
Dust Warfare - Force Builder
Faction: Allies ( 150 / 150 )

---  Elite Platoon (150)
Command Section: Rhino (22, Hero)
1st Section: "The Hammers" Heavy Ranger Assault Squad (28)
2nd Section: "Grim Reapers" Heavy Ranger Attack Squad (30)
3rd Section: "Grim Reapers" Heavy Ranger Attack Squad (30)
Support: LAW M1-A "Wildfire" (20)
Support: LAW M1-A "Wildfire" (20)
On a utilisé le battle builder de la campagne Hadès. Au final ça a donné:
Déploiement 0 point: pas de préparation, on place les unités de commandement et la 1ere section, puis les 2e, 3e et 4e section. Et enfin les supports. On s'est planté, on a tout placé au 1er tour alors que l'entrée des unités aurait du être échelonnée sur 4 tours.
Conditions 3 points: pas de ligne de vue au delà de 16 pouces.
Objectif 1 point : comptabiliser à la fin de la partie le plus grand nombre de points d'armée à 12 pouces de la statut de Staline Gandalf.
The builder of the Hades campaign battle was used. In the end it gave:
Deployment 0 point: no preparation, placing command units and the first section, then the 2nd, 3rd and 4th section. And finally supports units. We have misread the card, we have placed all the units in the first round while the entrance of the units would be spread over 4 rounds.
Conditions 3 points: no line of sight beyond 16 inches.
Objective 1 point: post at the end of the party the largest number of points of army 12 inches from the status of Stalin Gandalf.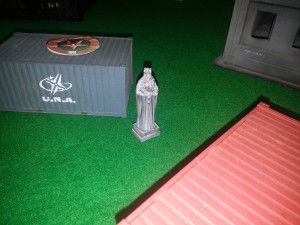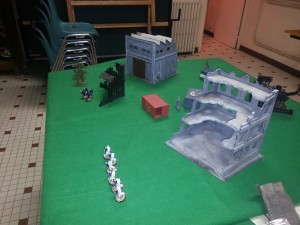 Ayant perdu pour démarrer le battle builder, je me retrouve à disposer mes unités en premier. N'ayant que des unités rapides ce n'est pas très grave, je les déploies donc à couvert. Nous jouons sur une petite surface de jeu et je peux parcourir plus du tiers de la surface en 1 seul tour. D'autant plus que les conditions climatiques me sont favorables (pas de tir de snipers à 30 pouces).
Having lost to start battle builder, I find myself to place my units first. Having that quick units , this is not a problem. I deploy them so covered. We play on a small area of game and I can browse more than one-third of the surface in 1 round. Especially as the weather is favourable (no shooting by snipers at 30 inches).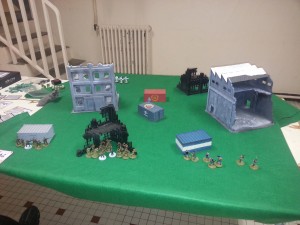 Côté SSU, bah ça se planque aussi. N'ayant pas l'habitude de jouer contre le SSU à warfare, je dois dire que l'escouade de 12 soldats ça surprend: Nikolaï + Commissar + 2 Faky. Comparé à mes unités de 3 grimm / hammers ça fait pas beaucoup.
On the side of SSU, bah it is hideout also. Not having used to play against the SSU to warfare, I have to say that the squad 12 soldiers it surprised: Nikolai + 2 Fakyeli + Commissar. Compared to my 3 grimm units / hammers it's not much.
N'étant pas familiers des règles ni des forces/capacités relatives des unités, les 1ers tours sont très calmes. Il faut dire aussi que nos jets de dès ne nous encouragent pas à être téméraires.
Being unfamiliar with the rules and forces/capabilities of the units, the 1st rounds are very quiet. It is also true that our dice throws does not encourage us to be adventurous.
J'envoie mes wildfire occuper le centre du terrain, ils collent régulièrement des marqueurs suppression sur les snipers de Riton sans pour autant leur infliger de pertes (couvert lourd + dès pourris). Les unités de Riton n'ayant pas un grande portée, j'occupe seul le centre du terrain.
I send my wildfire occupy the center of the field, they regularly stick suppression markers on Riton's snipers without inflicting them losses (covered heavy + bad luck). Riton's units does not having a great range, I am alone in the center of the field.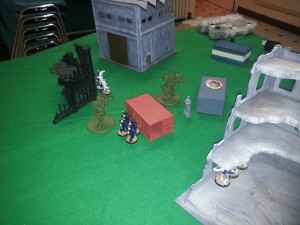 Ayant pris l'initiative avec un magnifique 0 réussite (1 pour Riton) je me décide à lancer l'assaut. Rhino et les Hammers se déplacent de 24 pouces pour atterrir entre les Jnetzy et les chinois de Riton (pas de réaction, merci jump). Les grim font pareil et se mettent à l'abri derrière le container.
Having taken the initiative with a wonderful 0 success (1 for Riton) I decided to launch an assault. Rhino and the Hammers move 24 inches for land between the Jnetzy and the Chinese of Riton (no reaction, thanks jump). The grim did the same and put away behind the container.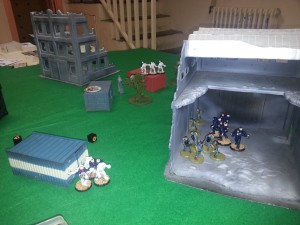 Le carnage démarre au tour de Riton. Les snipers tirent sur le wildfire (et ratent). Les volontaires chinois attaquent les hammers qui réagissent, l'escouade complète y passe, Rhino prend une blessure. Nikolaï et ses potes bougent pour tirer sur les grims. Ces derniers réagissent et se mettent hors de portée des escouades (13 pouces). Les Ohotniki s'avancent pour tirer sur le wildfire, celui-ci réagit et fait 2 morts (le wildfire ne prend pas de blessure).
The carnage starts on Riton's turn. Snipers shoot at the wildfire (and miss). Chinese volunteers attacked the hammers which react, the full squad die, Rhino takes one injury. Nikolai and his friends move to shoot the grims. These react and are out of range of squads (13 inches). The Ohotniki come forward to take on the wildfire, it reacts and 2 died (the wildfire does not injury).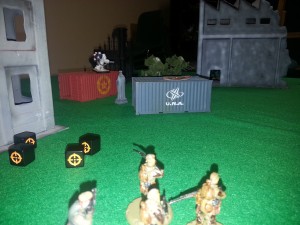 Au tour suivant, les hammers atomisent les Jnetzy, les grimm tapent les Faky et leur infligent 8 touches (1 sauvegarde), Nikolaï prend 3 PV et 4 Faky meurent. Les grimm perchés sur le containers arrosent les ohotniki et font 2 morts.
In the following round, hammers atomize the Jnetzy, the grimm shot at the Faky and inflict them 8 hit (1 save), Nikolai takes 3 PV and 4 Faky die. The grimm on the containers shot at the ohotniki and cause 2 deaths.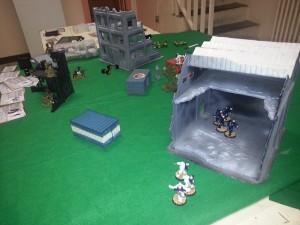 Riton gagne l'initiative et l'issue de la bataille ne laissant aucun doute, décide d'arrêter la partie à la fin du tour. Du coup, on achève les blessés et je me replace vers l'objectif de la mission.
Riton wins the initiative and the outcome of the battle leaving no doubt, decides to stop the battle at the end of the round. So we finish the wounded and I replace me towards the goal of the mission.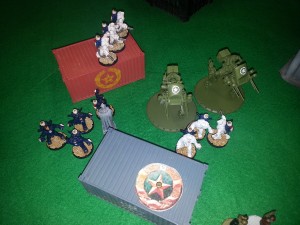 Victoire des alliés.
Au niveau des pertes (pour la campagne d'Islande 47) ça nous donne:
Riton : 64 points (je ne compte pas les upgrades de sections / platoon
Moi: 0 point
Mon debrief:
La partie a été rapide (si on enlève le papotage et la recherche de règle on doit tomber à 45min). Les règles sont simples une fois qu'on a comprit comment fonctionne la suppression et la réaction la partie est fluide. Par contre les listes étaient déséquilibrées, même si Riton avait eu un peu plus de chance au dès, avec la différence de portées des armes et de mobilités des troupes en ma faveur, l'issue de la partie aurait été le même.
My debrief:
The battle was quick (if we remove the chatter and the search for rule, it spent 45 min). The rules are simple, once we have understood how the suppression and the reaction part, is fluid. However the lists were unbalanced, even if Riton had a little more luck, with the difference in weapons's range and mobility of the troops in my favor, the end of the game would have been the same.