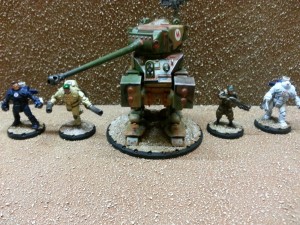 English version especially for you unitforward :p
Mon premier gros projet décors. Une table de jeu pas trop chère à fabriquer, transportable et facilement stockable, je suis donc parti sur une table modulable. Avec la sortie prochaine (un jour quand BF aura décidé de faire son job de distributeur) d'Opération Babylone le thème sera le désert, ce qui tombe bien vu que mes socles sont comme ça.
My first big terrain project. A table game easily storable and transportable, so I went on a modular table. With the upcoming release (one day when BF decides to do its job of distributor) of Operation Babylon the theme will be the desert, which is good because my bases are like that.
Modulable: je suis parti sur du 60cm*40cm, c'est la taille maximale que je peux stocker sans trop de difficultés. La cible étant de faire une table de 120*180, il me faudra 9 plaques. Je pourrais moduler la taille en fonction du nombre de joueur: 120*240 ou plus en rajoutant à chaque fois 3 plaques.
Modular: I went from 60 cm x 40 cm, this is the maximum size that I can store without too much difficulty. The target is to make a 120 * 180 table, it will take me 9 plates. I could adjust the size according to the number of player: 120 * 240 or more by adding each time 3 plates.
Transportable: des plaques pas trop grandes et pas trop lourdes. J'ai regardé ce qui se faisait pour les tables de jeu, c'est du MDF en 1cm d'épaisseur pour éviter que ça ne gondole. C'est lourd. Je me suis rabattu sur du MDF de 3mm d'épaisseur, collé sur du polystyrène de 3cm (le 2cm aurait suffit mais pas dispo en magasin lorsque j'ai fait mes courses).
Transportable: plates not too large and not too heavy. I looked at what was done to the gaming tables, it is MDF in 1 cm thick to prevent it gondola. It's heavy. I pulled over MDF 3 mm thick, glued on 3 cm polystyrene (2 cm would be enough but not available in store when I did my shopping).
Pas trop chère: budget de maxi 100€ pour les matériaux, la peinture et les accessoires pour les décors. La solution MDF 3mm + polystyrène est moins chère de 30% que le MDF 10mm.
Not too expensive: budget for maxi €100 for materials, paint and props for the decorations. MDF 3 mm + polystyrene is cheaper by 30% than the 10 mm MDF.
Pour la réalisation c'est assez simple en théorie: on coupe les plaques à la bonne taille et on colle le polystyrène sur le bois. Sauf que je n'ai pas réussi à couper correctement le polystyrène… J'ai une coupe droite mais en biseau. En jointant les plaques coté polystyrène j'ai de gros écarts, je les utiliserait donc côté MDF. C'est un peu plus contraignant pour creuser les reliefs mais j'aurais un meilleur rendu.
Making the table is quite simple in theory: we cut the plates to the right size and pasted the polystyrene on wood. Except that I have not managed to correctly cut polystyrene… I have a straight cut but bevel. Joining the side plates polystyrene I have big gaps, so I would use them on the side of MDF. It is a little more binding to dig the reliefs but I would have a better result.
Une fois le bois et le polystyrène collés, je mets du gros scotch marron sur les tranches pour  protéger les plaques des frottements. Je met ensuite une couche de colle PVA puis du sable fin. Je laisse sécher 24H (je ne suis pas pressé), j'enlève l'excédent de sable, j'en rajoute dans les manques et je repasse une couche diluée de colle. Comme ça je suis sur que rien ne bouge.
Once the wood and polystyrene glued, I put big brown Duck Tape on the slices to protect them from friction. I then put a layer of PVA glue and sand. Let dry 24 hours (I am not hurry) I remove the surplus of sand, I added in the gaps and I will return a diluted layer of glue. Like that I'm sure nothing moves.
Une fois sec on peut passer à la peinture. Pour ça je suis allé en magasin d'art acheter des gros pots (trop cher à faire avec les peintures GW). J'ai amené avec moi les couleurs que j'utilise pour mes socles histoire de comparer et je suis donc reparti avec 2 pots de 500ml de Ivoire (Bleached Bones) et de Sienne Naturelle (Snakebite Leather en un peu plus rouge). J'ai trouvé ces couleurs dans la gamme Pébéo Acrylics.
Une couche uniforme de Sienne Naturelle avec quelques lavis localisés dans d'autres teintes (ochre jaune, ochre rouge, terre de sienne brulée) pour simuler les variations naturelles.Un brossage généreux d'Ivoire suivi d'un brossage très léger de blanc pur.
Once dry it's time for painting. For it I went to art store buy large pots (too expensive to do with GW paints). I brought with me the colors that I use for basing my troops to compare them and I bought 2 jars of 500ml of Ivory (Bleached Bones) and Siena natural (Snakebite Leather in a little more red). I found these colours in the range Pébéo Acrylics Studio.
A uniform layer of Natural Siena  with few located washes in other colours (yellow ochre, red ochre, burnt Sienna) to simulate natural variations.
A generous Ivoire dry brush followed by a very light dry brush of pure white.
Et voici le résultat final (sans flash et avec flash):
And here is the final result (without flash and with flash):
Le rendu réel est plus coloré, la photo a blanchi le tout. Je n'ai fait que 6 tuiles pour l'instant, c'est assez facile au final. Le seul problème est le temps de séchage un peu long. Je compte faire 3 autres tuiles pour pouvoir jouer rapidement sur ma nouvelle table ; je vais tenter les cratères et des zones arides avec la pâte terre brisée de Ziterdes
The actual rendering is more colorful, the picture cleared everything. I did 6 tiles at the moment, it's pretty easy in the end. The only problem is the long drying time. I intend to do 3 other tiles to play quickly on my new table; I will try the craters and arid areas with the Zierdes « broken earth ».